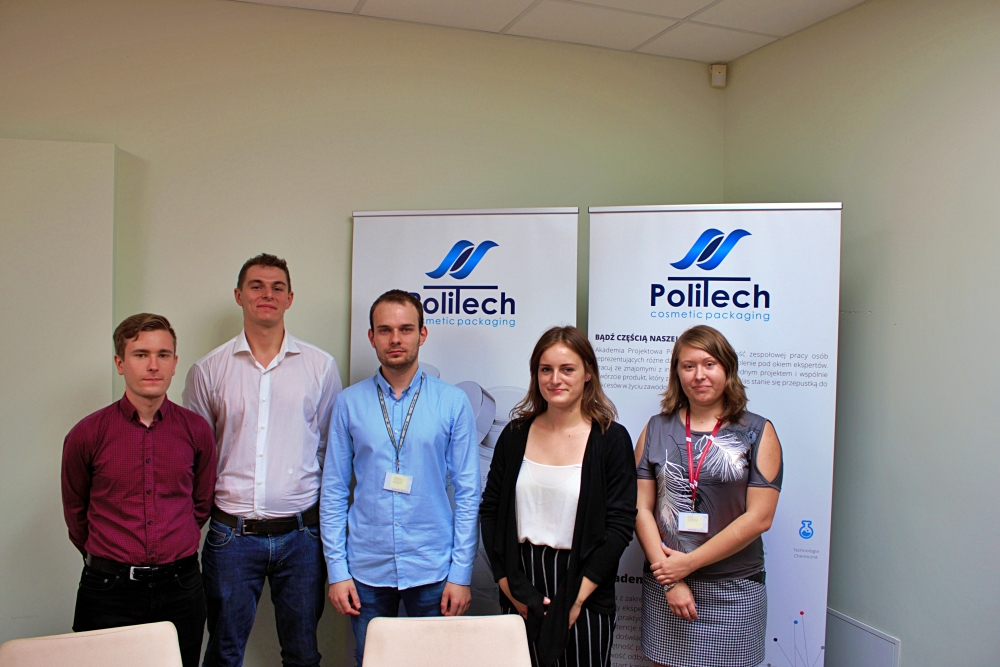 The second edition of Politech Academy is already behind us. The six-week internship concluded with the students' presentation about the results of their work, which was delivered to the Management Board of Politech, representatives of Uniwersytet Technologiczno-Przyrodniczy (UTP University of Science and Technology) in Bydgoszcz and experts, who were their supervisors and mentors during the project. The outcome of the project made a lasting impression – all the more so because it was tangible, thanks to 3D printing technology!
It was almost two years ago that the idea of creating a project group was spawned, which would essentially replicate the structure of Politech in a small sample. It included one representative from each field and department which handles the implementation of new products in our company, sequentially: beginning with a pattern maker, including experts on material processing, production engineers, chemical technology engineers, designers and even automation specialists. With this premise in mind, one year ago we held the first Politech Academy, which proved to be a great success, not only for students, who are only beginning their careers, but also for our company, which benefited from the innovative approach taken by the interns in regard to the challenges that our teams are facing every single day.
This year the Academy consisted of students on a variety of degree courses, such as mechanics and mechanical engineering, industrial design, chemical technology, material manufacturing and technology, mechanical material engineering. The team was immediately tasked with a project, and moments later moved on to a series of lectures combined with practical classes. An induction course in marketing and design thinking allowed them to learn more about the field that our company operates on and showed great prospects in design, which was a crucial part in the group's work over the following days.
Afterwards, our experts lectured the students on economic and technological analyses, decorative technology, mechanical engineering, automation, production management, and quality control. With this knowledge, the team was well-positioned to accept the challenge. In only six weeks they have done some truly incredible work. The results, and even the way in which they were presented, surpassed our expectations. The interns approached their tasks with creativity, and all of them were fully committed. The fruits of their labour were not only visualized in presentations, supported by a detailed documentation, research and analyses, but also in the form of 3D printouts!
After being congratulated and receiving thunderous applause, the students unanimously agreed that launching the Academy was an excellent idea, which let them start off their professional career on the right foot, since there is no place else that could give them such a great boost of knowledge and attention, while in parallel letting them work within the structure of a real company and use its resources.
Once again, we wish to sincerely congratulate and thank the participants. Working with such ambitious individuals is not only a great pleasure, but also an opportunity for us to reach our objectives, among which one of the most important ones is the creation of a favourable environment for young people to work in.
Powrót do listy artykułów