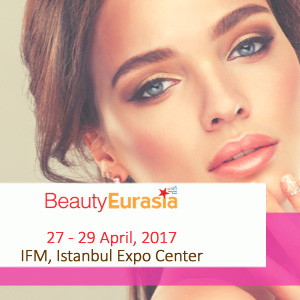 On 27 – 29 April 2017, Istanbul hosted the 13th international cosmetic fairs Beauty Eurasia. Our representatives attended this event not as exhibitors but as guests. On the first day we arrived at the Istanbul Expo Centre, located close to the Atatürk Airport, seeking to expand our list of business contacts. Two large halls were made available to exhibitors but they were not fully occupied. In our opinion, which was shared by other attendees, this year's fairs were smaller and less impressive than in previous years.
The fairs were dominated by exhibitors from Turkey and China, with a few representatives from Bulgaria, Pakistan and the United Arab Emirates. The European market was scarcely represented, with few exhibitors from Germany and Italy promoting their products. In regards to the range of services, producers of domestic detergents, hygiene or cleaning accessories, perfumes and cosmetic packages were in the majority. What we found rather surprising was the low number of stalls promoting producers of white and colour cosmetics.
Finally, the high volume of Chinese producers during the fairs could hardly go unnoticed, their products and services being by all means the most common. However, the talks we managed to conduct let us draw a clear conclusion that although Chinese packages are still very popular in the Middle East market, the interest in professional services offered by European companies is certainly on the rise. As it could have been expected, the made-in-China fake versions of the products which were last year's fairs hot items, e.g., Good Girl (Carolina Herrera) and Decadence (Marc Jacobs), brought about a range of opinions, sometimes contradictory.
Our representatives took part in a few important and inspiring talks. Entities operating in the market (including mainly in Turkey) seemed interested in Politech products, scrutinising our catalogues, presenters and perfume bottle samples. We hope that our attendance at the Beauty Eurasia fairs will give rise to long-term cooperation with Middle East entities. We have also gained new knowledge and drawn inspirations and we are ready to proceed with further development of the company with new energy.
Powrót do listy artykułów