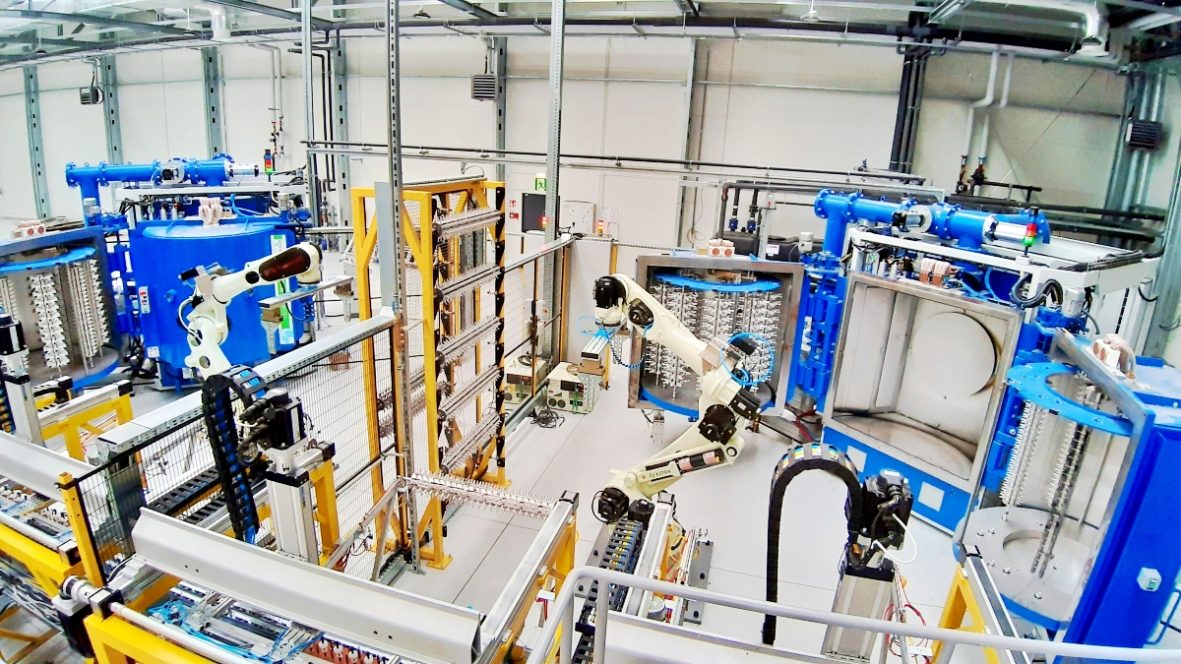 In its first years, Politech of Osielsko manufactured essential commodities from polypropylene, including office supplies and kitchen accessories. A breakthrough came in 1999, when Jan Nawrocki, the founder of Politech, became interested in the uses of an innovative plastic material, namely Surlyn. Politech was the first Polish processor to introduce Surlyn as an element of perfume packaging.
The next 20 years saw a focus on the continued growth of the business and processing capabilities. Today, Politech is ready to enter the world of Industry 4.0. Achieving the prerequisites necessary for Industry 4.0 has required Politech to revolutionise its production processes in terms of automation and robotisation, implement production and logistical management systems, and establish the Politech R&D Centre and Politech Design Academy.
Step by step
Already in 1999, Politech was developing its first standardised products, an innovation in its own right. This was enabled by utilising novel materials and seeking design engineering solutions that satisfied customers in the beauty products sector. The new products were quickly acclaimed by the market, and the growing interest of customers from abroad prompted Politech to participate in the largest event for related industries, Cosmoprof in Bologna, Italy. In 2004, Politech was the first corporation from Poland to win an award at the prestigious Cosmoprof fair. Three years later, Politech invested in new headquarters with much larger production and warehouse areas than before, complete with state of the art processing and production solutions.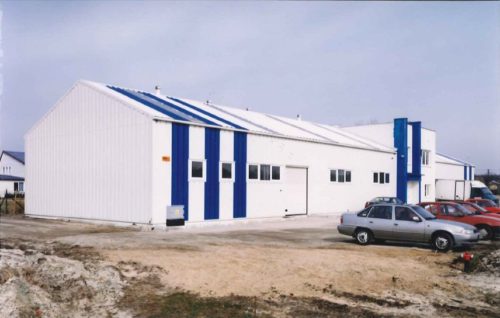 The first headquarters of Politech – 1998
In 2006, Politech rolled out an IT system for live monitoring and logging of all production stages. The next rollout project implemented a production and work time billing system. The logistical processes of warehouse management, material and intermediate provisioning, and inbound supply were all upgraded.
Politech continued to strive to make a difference and provide first-class, unique products. The latter soon become so popular that further expansions and capacity upgrades barely covered market demand. Just one year after the new facilities opened, a new UV lacquering line and a vacuum metallization unit were added. A second office building with a tooling shop was established in the same period, largely intended to house the growing logistics team, with social amenities for a staff that was growing to over 100 people. Several years later, and the building became home to the Politech R&D Centre, a cornerstone of innovation for the business. This has been the origin of most unique ideas, product concepts, processing optimisation plans and novel technologies.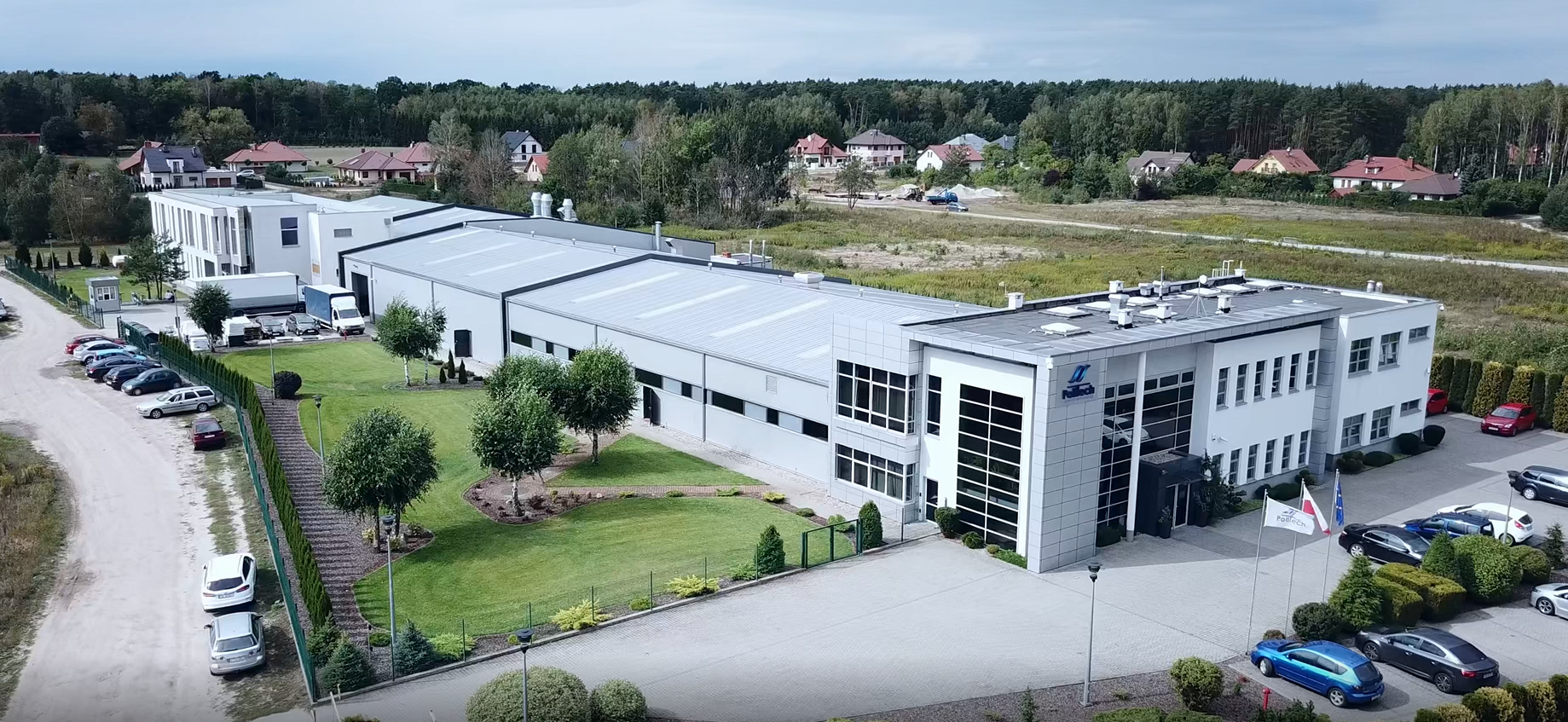 Second (current) headquarters of Politech.
A second lacquering line was launched, featuring a central material feed system and product part cooling systems. In 2014, Politech took its first major step on the road to Industry 4.0. Robotic processing units were purchased, along with the implementation of novel and complex projects featuring stringent requirements. The first robots were programmed to process large-scale production finished parts. More robots were introduced for injection moulding units, in the product assembly area and on the lacquering line. Numerous training sessions and a highly qualified team helped give the robotic units multi-task capabilities: finished part pickup, multi-stage product assembly, and release of parts to dedicated transfer trays. These automation solutions greatly streamlined the processing and improved the work quality. The parts were much cleaner, with higher repeatability and greater production efficiency.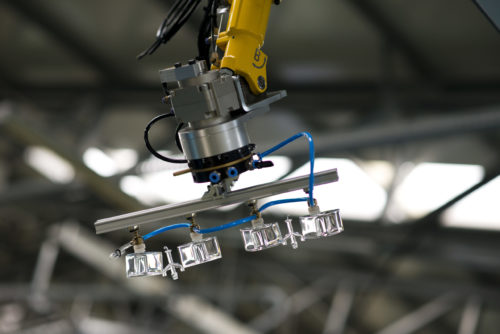 Robot arm carrying details
Partial manufacturing automation secured more contracts for packaging components for the most popular global brands. Politech understood it must follow this up without a single misstep and that further expansion of the business would require more additions to the site, which had already been extended several times. As the site in Osielsko lacked sufficient room for further growth, in 2017 Politech purchased 2.7 hectares of land in the Bydgoszcz Industrial and Technology Park.
At first only a modest part of this huge property was used (about 5,000 m2), to leave enough room for future expansion. In 2018, construction of a new production plant began, with much larger warehouse and production areas, and a cavernous decorative finish processing building. The new facility became home to Politech's offices and staff amenities, and a high-tech location for creative automation engineering focused on processing improvements.
A new factory in the Bydgoszcz Industrial and Technological Park
Still, the upgrade to the Industry 4.0 standards was slated for the decorative finish processing building first. A team of Politech specialists assisted by outsourced industrial automation contractors developed the concept of an automatic lacquering line coupled to the vacuum metallization units by robot cells. It took a year of work to turn the concept into a fully operational paint systems department. The level of automation is a marvel to see and raises the bar of efficiency even higher.
The latest processing solutions at the Decorative Finish Department help Politech secure more business with customers abroad and optimise the operating costs of the business. The state-of-the-art robotic solutions improved the processing efficiency by 20%. The Osielsko plant has 12 operators running the manual processes to produce 67,000 finished and lacquered/metallized parts per work shift. The highly robotised Bydgoszcz plant can produce approximately 80,000 pieces per work shift, manned by 5 operators.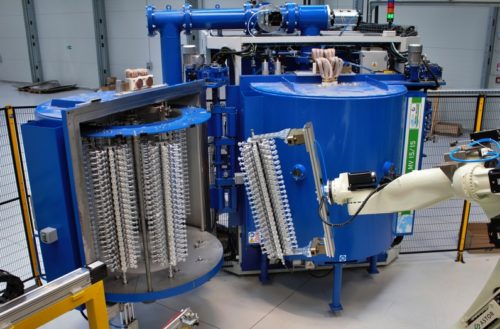 Part of an automated lacquering line combined by robots with metallizers
What's next?
In Osielsko and Bydgoszcz, the production process is already largely automated. In the following years it will probably be brought to an even higher level thanks to the use of further specialized robots servicing injection molding machines. The machines already pick up the details, assemble them and place them on trays. Currently, Politech is also considering numerous options for automation and support of employees in a warehouse in Bydgoszcz – for example interdepartmental transport using self-driving trucks.
Powrót do listy artykułów