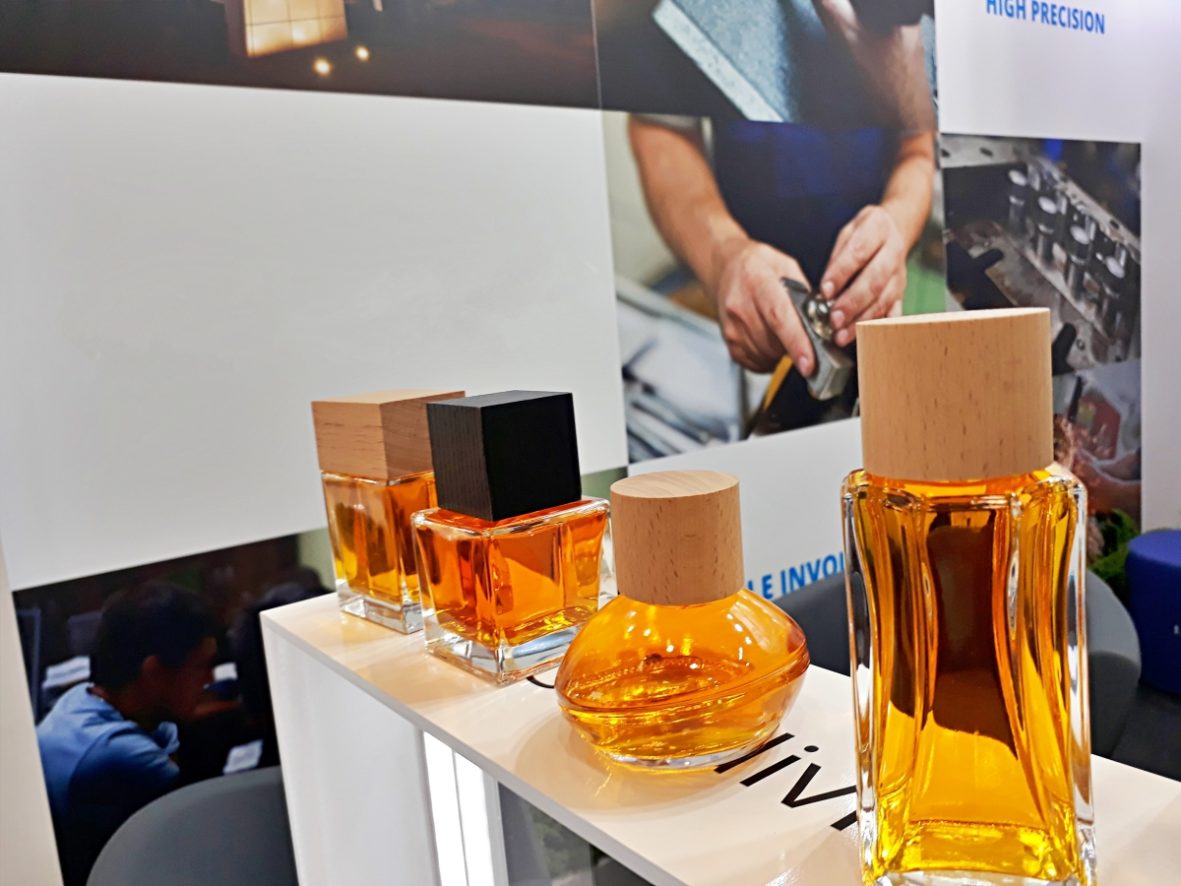 On our blog, we often go back to the topic of the current trends in cosmetic and perfume packaging. New designs, materials, and colours regularly appear on the market, with varying levels of influence. Some of them, however, remain in vogue for longer, thus creating a growing demand for a given solution. The strongest trend that we have observed recently is wooden perfume caps. They are actually more sought after than biodegradable plastic, new shapes, fashionable textures, or interesting colouring.
Why have the wooden caps gained so much popularity?
The market is full of novelties, especially when it comes to innovative materials: biodegradable materials, materials which make full use of plastic pellets, or mixtures of plastic and wood. So why are caps made of solid wood so popular when compared to the competition? Seemingly, wood is by no means more innovative than competitive solutions.
On the other hand, wood is also a material whose industrial processing methods have been developed for many years, whereas developing new types of plastic always involves more effort: learning about their properties, adjusting the machines, and training the workers. Experience in production methods require years to grow, therefore a great deal of time is needed to implement fully efficient processing techniques of atypical materials which combine, for example, wood with plastic. What is more, just as much research and testing would be required to examine the decorative features of new materials and to check how they could behave in the future.
A new take on a familiar material
Wood is a natural choice for eco, bio, or veggie projects. The presence of wood in ecological perfumes, which have become very popular lately, or in exclusive fragrance lines, is a perfect move in the communication strategy of the whole product or brand. Wood has enormous marketing power, so by employing good advertising strategies for the new packaging, you can increase your sales considerably.
Moreover, wood offers a wide range of decorations, and the orders can also be completed in small quantities. The option of small orders for stained, varnished, coloured, or engraved details give wood the competitive advantage over its other eco-friendly counterparts.
Wood is also characterised by completely different technological properties, thanks to which it can be easily shaped into forms which are difficult or impossible to achieve with plastic. Obviously, there are also some limitations and drawbacks to wood in comparison with plastic. When deciding on the shape of a chosen detail in wood, you should consider ideas which go beyond the designs of polypropylene or Surlyn details.
Each type of wood is different – choose the one which works best for your project!
Just like there are numerous kinds of plastic, wood is also a versatile category. Both groups contain plenty of variations. Of course, the selection is restricted by the specific features of a particular project and by the processing options of a given plastic or wood sort. Nevertheless, you need to take their great number into account, as different materials can provide different end results in the product. The most important factors in this respect are: wood porosity, hardness, weight, wood grain patterns, and – last but not least – the colours.
Numerous advantages and high demand
In summary, wooden perfume caps have become the real it product as of late, thanks to the numerous advantageous properties of wood, which constitute a great response to the current bio, eco, and veggie trends. What is more, wood processing technologies are well known and advanced. In addition, with the many species of wood and their individual characteristics, visually interesting details can be created without unnecessary ornaments.
Using wood, you are able to work on totally different forms than in the case of synthetic materials. There are also plenty of wood decorating techniques, such as lacquering, staining, colouring, or engraving. From the client's perspective, another advantage is the possibility of ordering small quantities. The ultimately positive trait of this material is its naturalness and eco-friendliness. This way, wooden caps address the present needs of the users. By making use of these trends and knowing which way the wind blows, you are more likely to succeed both in terms of PR and sales.
Powrót do listy artykułów